How MIDI changed music


In 2013, MIDI turned 30 and the whole world turned out to celebrate. In 2023, MIDI will turn 40 and MIDI 2.0 will be three years old. It's a fascinating time for MIDI and the people who create music and art with MIDI.
In the early 1980s five synthesizer manufacturers agree on a common standard for sharing musical information digitally. That standard, known as Musical Instrument Digital Interface, changes music forever.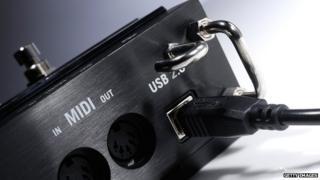 It's 30 years since the development of technology that allowed synthesisers and drum machines to be connected to computers - and since then MIDI has revolutionised the world of music recording.
The language used to translate sound into digital information celebrates its 30th anniversary. Today, MIDI is everywhere, including nearly every pop song on the radio and the fountain at the Bellagio Hotel in Las Vegas.
Whether you're the next Trent Reznor on a MIDI controller or simply get a warm fuzzy feeling in your tummy when hearing classic video game themes, there's no de...
Dave Smith should be a billionaire. He invented the world's most widely used music technology. Instead, he's relatively unknown - and it doesn't bother him.
What is it about MIDI that it has not only endured 30 years of studio and live usage... but continues to thrive in all environments? Peter Schwartz delves deep
A protocol that lets musical instruments talk to and trigger one another turns 30 years old today. MIDI is still used by the likes of dance-punk band !!!. It's inventor Dave Smith explains its use.
Technology will be praised in a yearlong celebration
Ableton is making history. In the world of sound recording tools, the German music software company's name, as well as the name of their flagship product, "Live," may not be as ubiquitous as names like "Fender Stratocaster," "Marshall amplifier," or even "Pro Tools." But in the world of computer-based music production, Ableton is a giant. Their fresh take on composition has earned their software a place in the arsenals of acts you perhap
30 years of MIDI: a brief history | Why was it created… and what comes next?